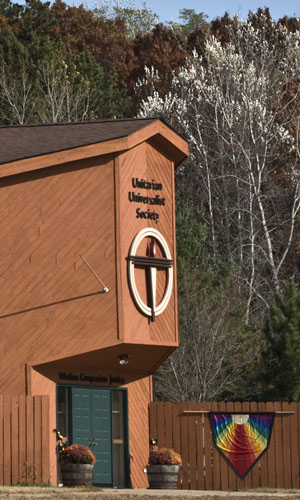 Unitarian Universalist Society of River Falls
N8010 US Highway 65
River Falls WI 54022
We are located approximately 2 miles south of the intersection of Cascade and Highway 65 in River Falls, going towards Ellsworth. The church is a little off the road on the left. There is a sign near the road.
If you seek a religious home in which wisdom, compassion and justice are the guiding principles, you have come to the right place! With members from throughout the St. Croix Valley,
Children are welcome! The nursery, located next to the women's restroom, is equipped with a loudspeaker. Parents who wish to keep children with them during the service are encouraged to take advantage of Child Activity Bags. We also have outdoor space with a playground.
UUSRF is a welcoming, liberal, religious congregation that strives to nurture our community, to help our children learn, and to grow spiritually. We invite you to join us for a Sunday service.
Thanks for visiting our website!  
Attention! Annual Meeting Coming up on July 26!
The UUSRF Annual Meeting will be held on Sunday, July 26 at 10:30 AM.  Join us to elect new board members, approve a budget and amend bylaws for the Society.  We are still accepting nominations for two open board positions. Please consider serving!  
We plan to hold the meeting outdoors at UUSRF.  Please dress for the weather, be prepared to wear a mask and be conscious of social distancing requirements. Also, please bring your own beverage if you wish!
It is very important that we have enough members present for a quorum. Only members are allowed to vote, but we encourage friends to come and give input and use this as an opportunity to become more deeply committed to the Society's work.  You will be able to become a member at the meeting. 
We do recognize that some people will prefer not to attend in person and may wish to submit a ballot via email. We will offer a ZOOM Q&A meeting (details pending) if you wish to get clarification from the Board about the budget or bylaws changes before submitting an email ballot.   We will send out invitations to the ZOOM meeting closer to the date. 
You may download the proposed budget, bylaw changes and ballot/proxy form below. If you have any difficulty accessing these documents or have questions about the meeting, please drop us a line at uusrfon65@gmail.com
Sunday Service:  10:30 AM
Our Mailing address:  
Unitarian Universalist Society of River Falls
P. O. Box 63
River Falls WI 54022
Phone: for cancellation or other information , please call our Board President: 715-315-8228.
Please explore:
Click on one of these topic titles below (or use the navigation menu at the top)
Including:
Sunday service and activities
and weekday scheduled events
We are a lay led and primarily volunteer society with a church on 5 acres. Find your niche.
Updated for all activities happening at UURSF.
Current information: contacts, announcements, community activities, and links to our friends
If you want pastoral care for a person or event in your life ….